The Legend of Zelda: Tri Force Heroes Cheats for 3DS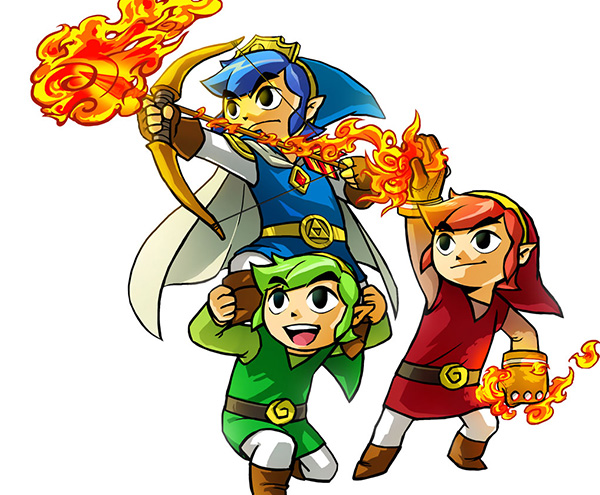 It's time to unlock all the Tri Force heroes secrets with well-placed hacks and cheats. Using cheats on Tri Force Heroes is perfectly safe now that everyone is focusing on latest Legend of Zelda installment likes Breath of the Wild. Different cheats and tricks will work differently. Some of them are all about accomplishing a mission while others are about doing something right so as to earn more rupees.
Doing the Ball Pop for Extra Rupees 
You will have to be in the connection room to the Drablands. Do a Pegasus dash (L1/R1) on the walls or pillars. A ball will fall from the ceiling and will pop into the air if you slash at it. Keep hitting it to keep it in the air. You get bonus rupees depending on how long you can keep it up there.
Receiving Gold-Rank Material 
Complete all the normal run and all the three extra challenges on each of the four levels before talking to your king. He will give you a Gold Rank Material for that world. The best way to know if you cleared all levels check if your board has all the 16 Triangles lit up. You can complete the missions in Multiplayer or Solo Mode. It really doesn't matter.
The Legend of Zelda: Tri Force Heroes Infinite Rupees Glitch
The Legend of Zelda: Tri Force Heroes Unlockables
| | |
| --- | --- |
| Clear all Challenges in Woodlands | 1. Supple Leaf |
| Clear all Challenges in Riverside | 2. Thornberry |
| Clear all Challenges in Volcano | 3. Divine Whiskers |
| Clear all Challenges in Ice Cavern | 4. Beastie Patch |
| Clear all Challenges in Fortress | 5. Brittle Papyrus |
| Clear all Challenges in The Dunes | 6. Golden Insect |
| Clear all Challenges in The Ruins | 7. Gold Dust |
| Clear all Challenges in Sky Realm | 8. Fabled Butterfly |