Location for All Resources in Graveyard Keeper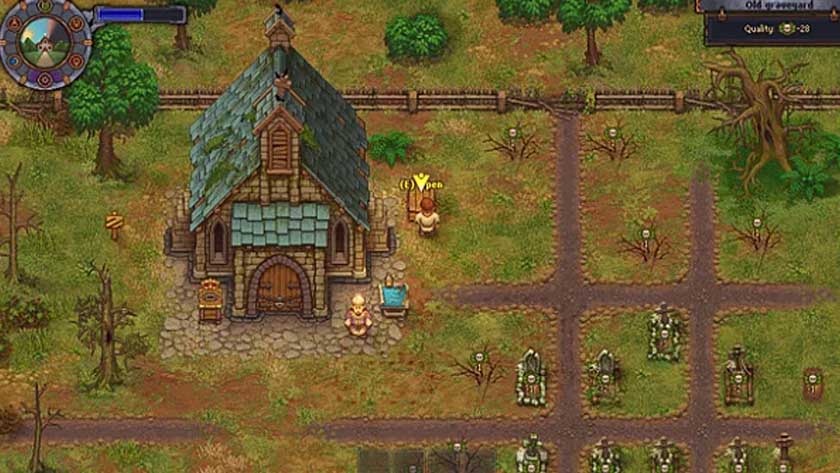 Graveyard Keeper might have mysterious dungeons begging to be explored but there is no way we can deny that it is a pure strategy game that relies on your ability to gather the right resources at the right time.
Everything will revolve around gathering resources and using them to craft new items that you will either use to decorate your newfound graveyards, get delicious meals for the festivals or even sustain your weird business alliances.
While the game wants you to find all the resources scattered in the map on your own, knowing where to get your wood, stones or water will save you time and unnecessary frustration. In this roundup, I am going to share the location for all resources you currently need to survive the PC version of Graveyard Keeper.
Water: the well to the South of your house will have an infinite supply of water
Wood: Virtually all over since trees grow in real time (infinite)
Stones: Random places locations in the map (finite.) Specific stone spot can be found to the North West of the house on the bee keeper's plateau. You will also find a refined stone (marble) at the very top of Witch Hill.
Coal: In the mountain to the North West of the map area (infinite for now)
Iron:  There is a finite supply to the north of your home and an infinite supply next to the coal ore. There is more iron ore in the West Swamp just after you go past the broken bridge.
Sand: on the riverbeds in the North West area
Clay: To the south of the church. There is another location south-west of the bar
Beehives for honey, beeswax, and bee: 2 spots to the Northwest of your house just past the hill, 2 spots to the East of Witch's Hill and by the sides of the wheat field
Berry Bush: Around the beehive to the Northwest of your house, next to the beehive near Witch's Hill, below the lighthouse, At the village just past the blacksmith's
Apple trees: Near the lighthouse. If you dig up the stumps in the orchard by the lighthouse, three gatherable apple trees will sprout up
We will keep dropping more items and valuables farming spots as the game catches on. If you are looking for precious metals like gold, there is no specific spot to gather them in Graveyard Keeper so far. There is random chance that you find them when mining iron ore.
With the developers still working on changing a couple of things here and there, there is still so much that is bound to change even before the Xbox version of the game rolls out by August. If you want to push your luck further, you might try out Cheat Engine hacks and tables to give you an upper hand in the game.