Dragon Ninja Rush – An Endless Running Game With a Delicious Twist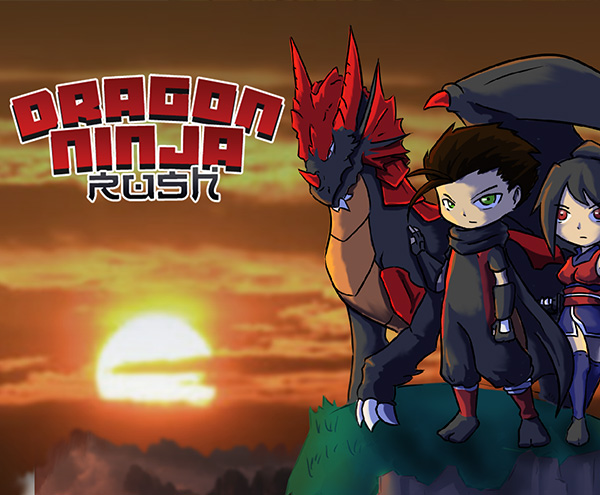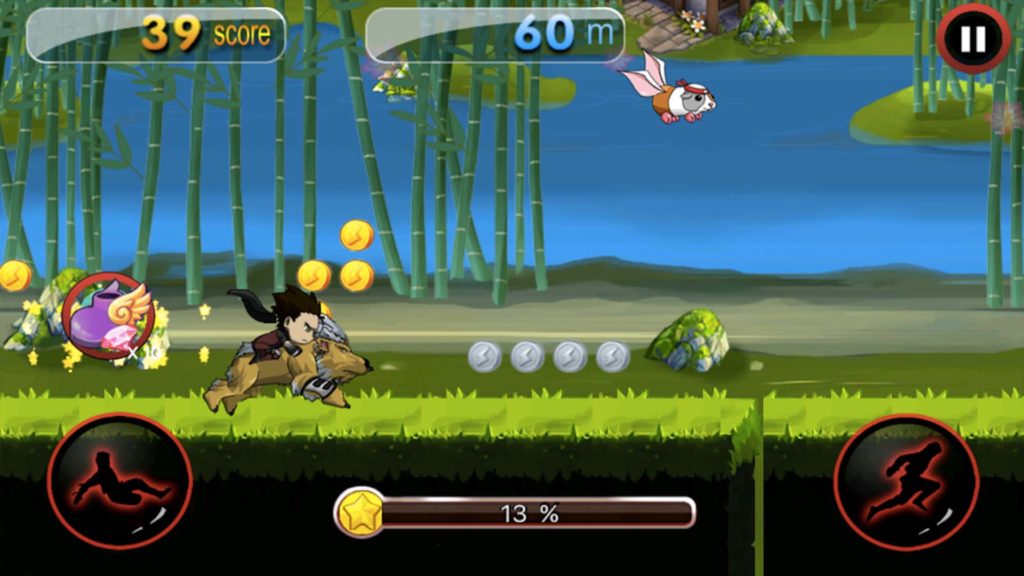 Ninjas never cease to amaze. From the endless stealth takedowns, the almost supernatural jumps and gymnastics and their stamina to keep racing through their mission without making a sound is simply irresistible. This is the spirit FunTag Games embodied when developing the highly addictive endless running video game.
If you've played and loved the kinds of Temple Run, Subway Surfer, and Super Mario Run, you will definitely be at home when taking on Dragon Ninja Rush.
FunTag might have chosen to tread a commonly trod path but the good news is they did it with a twist. Your mission, should you accept it, is to be the ultimate ninja, make your way through the scene gathering as many coins as you can while avoiding enemies and ninja related weapons like the shuriken.
At a Glance
The game lets you run on your feet, acquire a mount you can ride through the game and improve your abilities or get a pet that will accompany you through your career. A persistent achievements list prominently displayed on game launch reminds you of your next targets hence adding some purpose to the game.
A 'To Do' list seeks to put things in perspective by showing you how much you've accomplished. I, however, found it a bit disappointing since all you get to see is what you have accomplished and the number of total tasks. I had something like 13/42 but I couldn't see the unaccomplished task descriptions.
Gameplay and Graphics
Dragon Ninja Rush feels professional and stunning at a beat. The 2D graphics are crisp enough for my liking and they especially pop when playing on a decent phone. I was trying the Android Version on the Samsung Galaxy S7 and it was simply outstanding.
Needless to say, the 2D platform gave FunTag an opportunity to cram in a ton of obstacles and gameplay logic without making the game bulky and a bother to lower end smartphones meaning that a wide range of gamers can try a hand on this free Android and iOS game.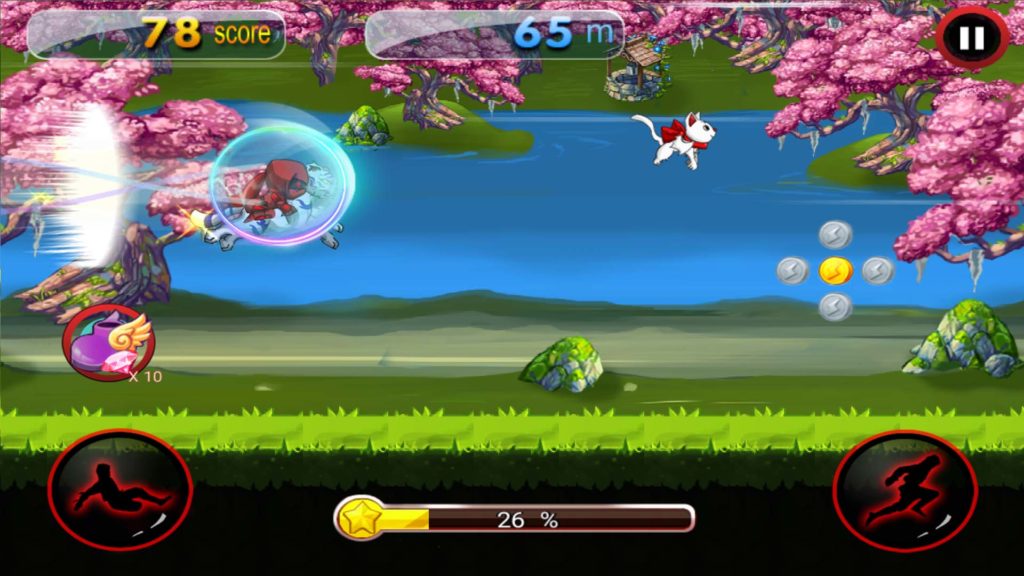 The simple jump and duck controls make Dragon Ninja Rush sound simple and easy to play. To some extent, it is – as long as your reflexes are good and you can manage to look ahead into the game rather than obsess on your jumping ninja and the coins.
Tapping to the right of the screen makes the ninja jump while the left makes your character slide beneath obstacles like walls and shuriken.
This is pretty much all there is to controlling the game. The biggest challenging is combining the two basic maneuvers perfectly to avoid obstacle combos that are always out to make you fail.
Always New and Challenging
I might argue that Dragon Ninja Rush has no concept of easing me into the game but that would be whining. To me, the game kicked off at such a high pace, throwing all the obstacles and enemies at me on my first quest.
This doesn't mean that you will run out of new challenges in a moment. Your path will be completely new every time you respawn making it almost impossible to cram the path and anticipate danger before it strikes.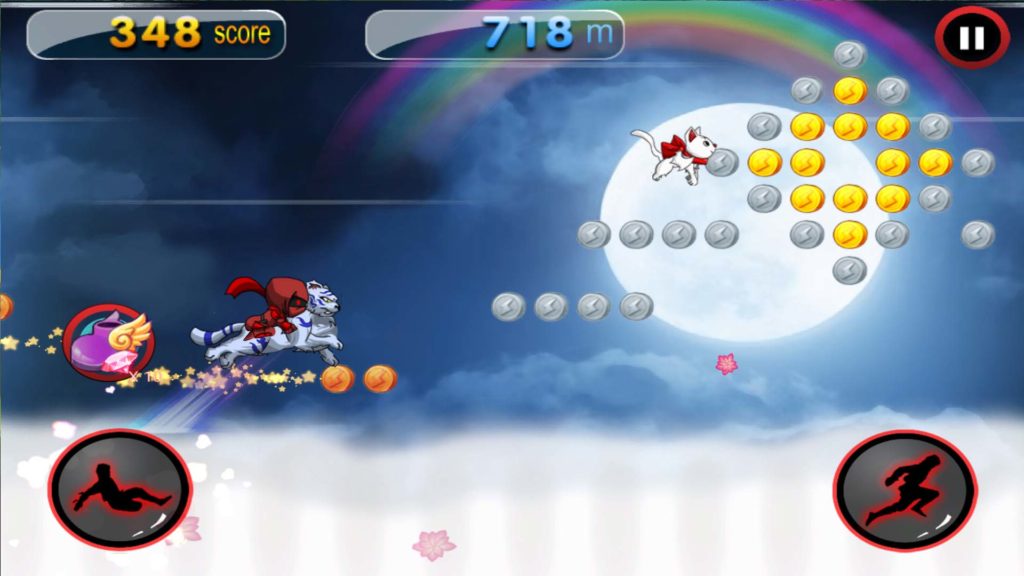 Does this make the game bad? Not at all. It makes you feel like you are walking a tightrope, or balancing on the sharp edge of a Ninjato sword with no room for error.
The wrong combination of a jump and slide could either leave you in a position where you can't slide in time to go under a wall or when it is too late to jump over a ditch. Such unpredictability might sometimes be frustrating but to the initiated gamer it is just the kind of challenge that will bring out that inner persistence.
Characters and Scenes
You can either be a Ninja Boy (this is what I got as a beginner, guess it's because my Google Play profile is male), a Ninja Girl, the Ninja Supreme or a Ninja Cyborg.
You will need gold coins, the ones you collect in the game, to unlock new characters or gems to get the ultimate warrior, the Ninja Cyborg.
For pets (I don't know what other role the pets have other than making the game cuter) you can have a Ninja Dog, a Ninja Dragon, a Ninja Hamster or a Ninja Cat.
The more practical mounts will carry you through the ninja world faster giving you a better shot at gathering more coins per dash. You will have to be content with a Super Mammoth, a Strong Bear, the White Tiger or the Power Dragon.
With the scenes ranging from a full summer bloom forest to a chilly dark night, you will always feel like you are playing a new mission each time you hit the go button. This goes a long way to breaking the monotony and keeping your in-game mojo flowing.
My Thoughts On Dragon Ninja Rush
The game kicks off at an amazing pace. This could be good for anyone who loves a great challenge but simply a nuisance to explorers who want to dash some meters before encountering serious complexity.
With the mission spread between gathering coins and running a longer distance, true veterans will always have something to boast over and a target to beat since there is a high score board. The fact that you get to extend your runs by either spending coins or watching an ad gives you chances to even go father and explore the game world better.
In-app purchases will earn you an upper hand and give you the coins you need to purchase characters and unlock new capabilities.
The most impressive thing is that the game is still playable even if you don't invest in coins as the character pricing is relatively reasonable and you can easily earn the coins you need to ramp up your profile.
I would recommend the game to virtually anyone as it doesn't have any gore or foul language. The only requirement is that you should be ready for the challenge, have quick reflexes and be ready to work hard. Being the ultimate ninja doesn't come that easy, not even in a game.
Download it on Google PlayStore
Download it from Apple's App Store