15 best manga apps for iOS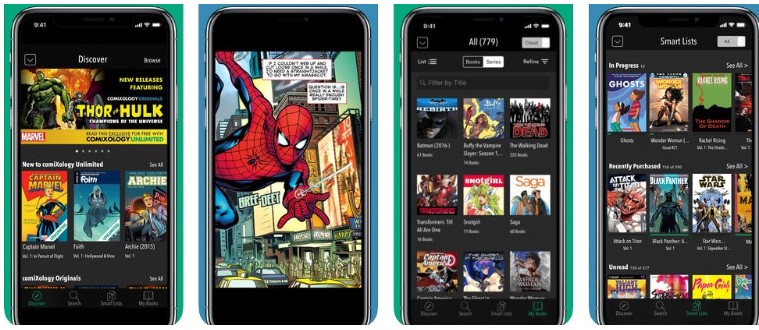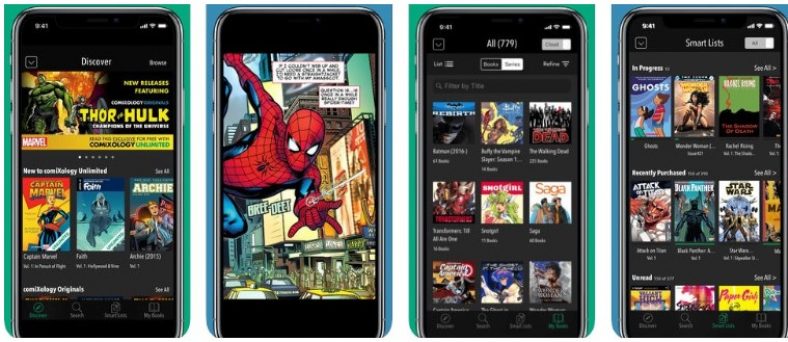 Apart from its technological prowess, Japan is reputed to be home of Manga. The Japanese comic genre has the worldwide following that translates to voluminous sales. The manga genre has also joined the foray of text to digital migration of publications. To this end, Manga has endeavored to offer its growing global digital copies. Granted the intricacies surrounding reading of Manga, how to read it or even at times need for translation, there is a sharp rise in the number of applications offering solutions to these issues. The following is a list of the best apps for reading manga.
1. Manga Reader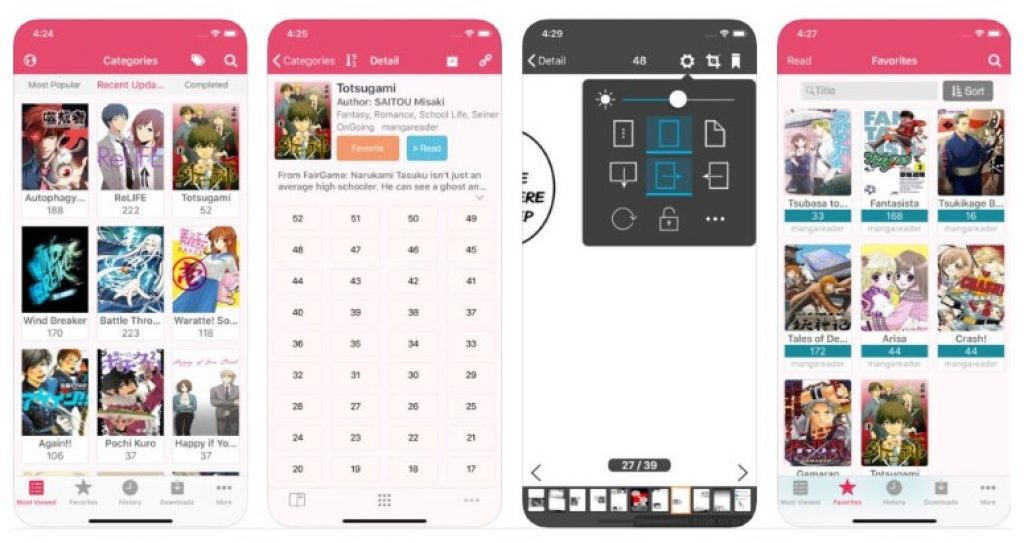 This self-styled app is absolutely free. It's simultaneous streaming of manga libraries is perhaps one of its outstanding features in addition to the 30 different comic sources it comes with. With such voluminous content, the organization becomes a key issue. The app has organizational features allowing the user to systematically keep track, bookmark and keep track of the content.
Its cloud syncing is particularly important when you lose your phone. The 20.5 MB app can be easily downloaded from Apple App Store and has no manga download limits. It also boasts of constant updates every 2 hours.
2. Manga Rock

This free app comes in seven different languages, boasts 24 sources and 24/7 update. Its reader-friendly features allow you to go back to where you left and continue reading. The settings also allow reading in various planes, horizontal, or vertical in addition to this the display can be adjusted ranging from brightness and reading direction. Manga rock developers contend that the app is light on your batteries. The app has received flack recently over claims of pages not displaying.
3. ZingBox Manga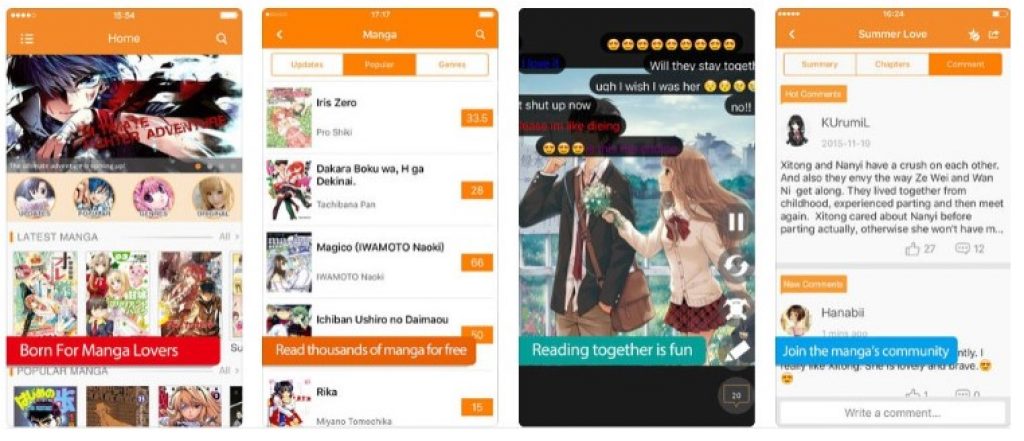 Coming at a modest 36.1 MB this app has 20 sources and over 100,000 manga that you can read. The app lacks annoying ads associated with apps. The ability to back up your collection and use with other iOS devices using Facebook or email is an added advantage as opposed to other apps that strictly use iCloud.
4. Manga Bird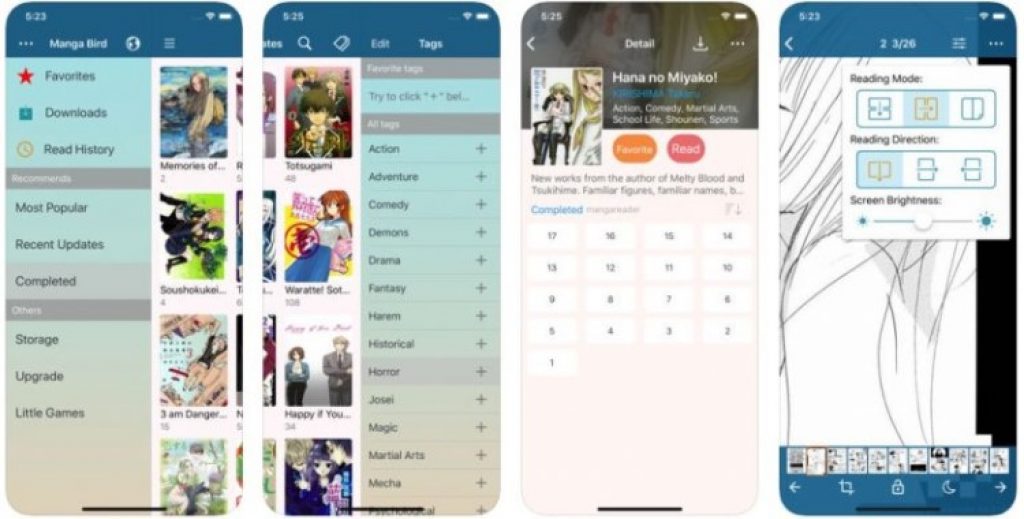 When you have 8 language options,20 Manga sources, 100,000 mangas you definitely claim to be king of Manga apps. Well, at least the developers claim that. This app has both day and night reading mode that protects your eyes. Considering the 20.1 MB size, this app offers a lot for its size. It checks storage every time for the already read Manga The two direction readability, search filters, and easy iCloud back up makes this app a must-have.
5. Manga Storm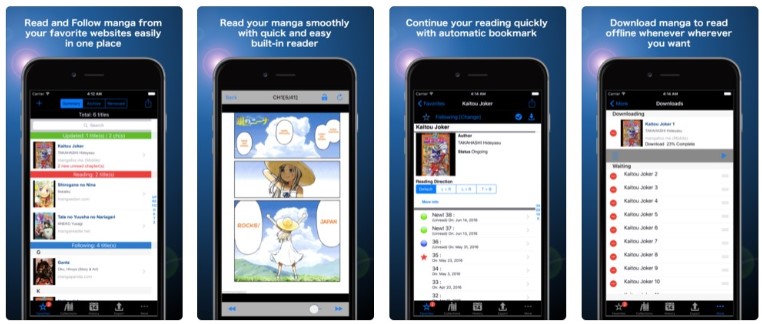 Manga storm is 24 MB in size, unfortunately, it is only available for iOS 9 and above.it has 25 sources of Manga with well-organized settings and syncing of your collection. Its outstanding feature is the ability to convert your manga collection to CBZ files which allows reading in other device comic readers. The developers are easy to get hold of in their Facebook page where their response time is usually an hour.
READ ALSO: 10 Best Need For Speed Games of All Time
6. Comic Rack
Comic rack has the distinction of cataloguing your comic collection into series or publishers. Its availability on Pc means you can easily sync it with your mobile phone app. This free app supports various formats of comic CBZ, CBR, ZIP, PDF and RAR. You can import Manga into your CSV file.
7. MangaZone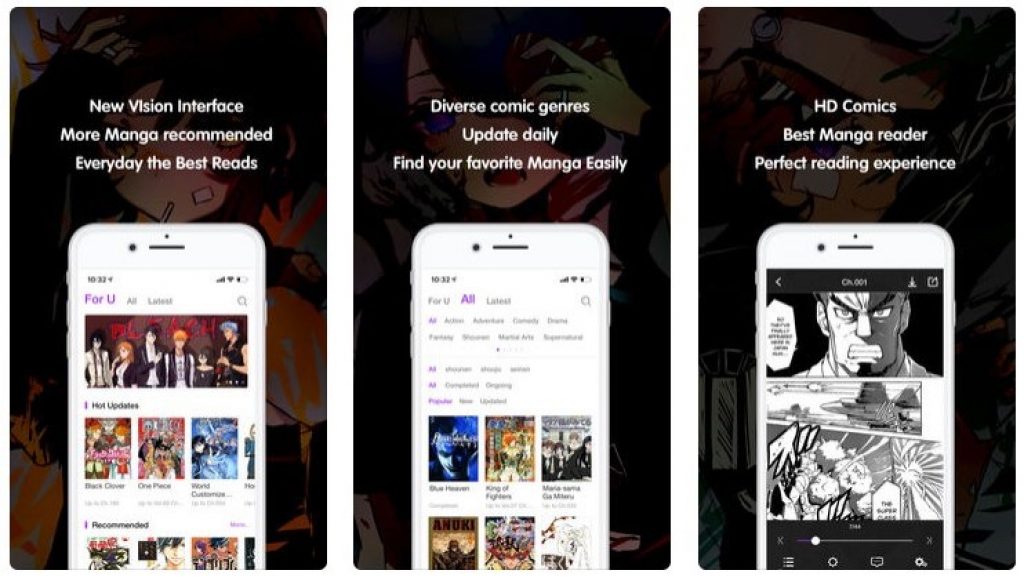 Mangazone prides itself in utilizing minimum space. It automatically catalogues your collection into specific genres. If you are worried about your last page, Manga zone automatically re-opens where you left reading. In addition to this, its page orientation setting allows you to adjust the Manga to your preferred reading.
8. Shonen Jump Manga Reader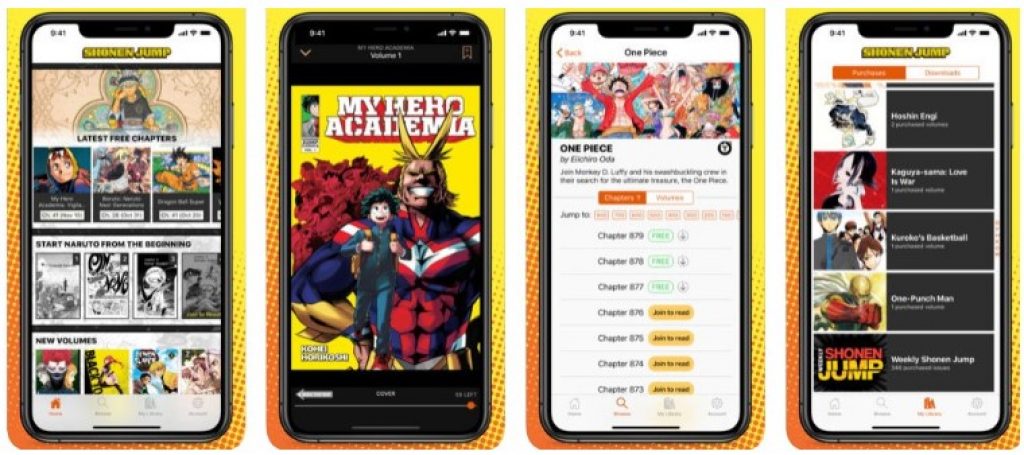 Viz Media developed this application for English readers. It is free though it comes with in-app purchases. The application works cross-platform for both Android and iOS.
9. Manga Lib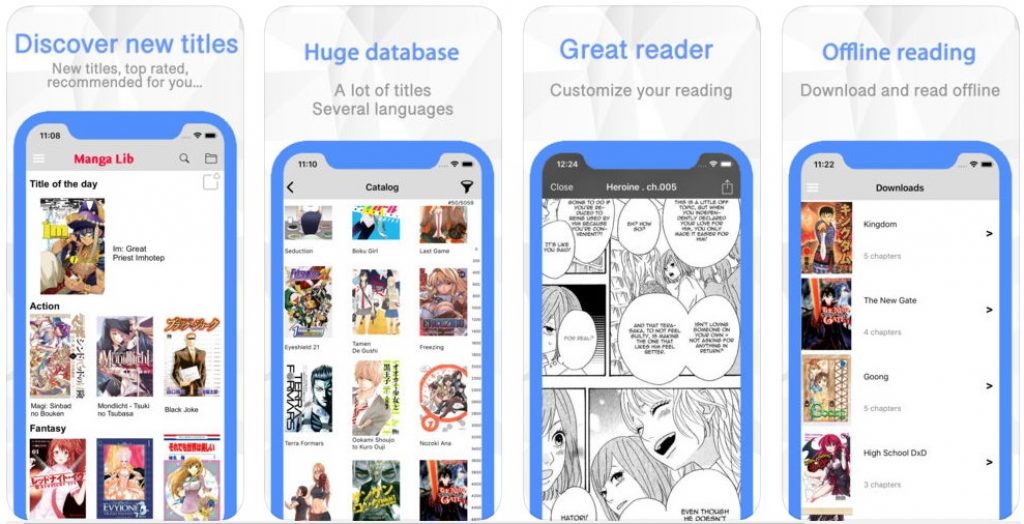 As the name suggests, this app boasts of an extensive collection of manga. The ability to access your collection offline makes it perfect for those on the move. The free Dasist Entertainment SL app boasts a library of 100,000 manga you can select from with the benefit of constant updates.
10. Comic Zeal

Comic Zeal was a trailblazer in comic reading applications. It earned the title of the first app of such kind in the Apple Store. It allows its users to catalog their collections. Unlike the other apps, it comes with a price tag of $4.99 in addition to in-app purchases. Its two page allows for convenient and faster reading.
11. Comixology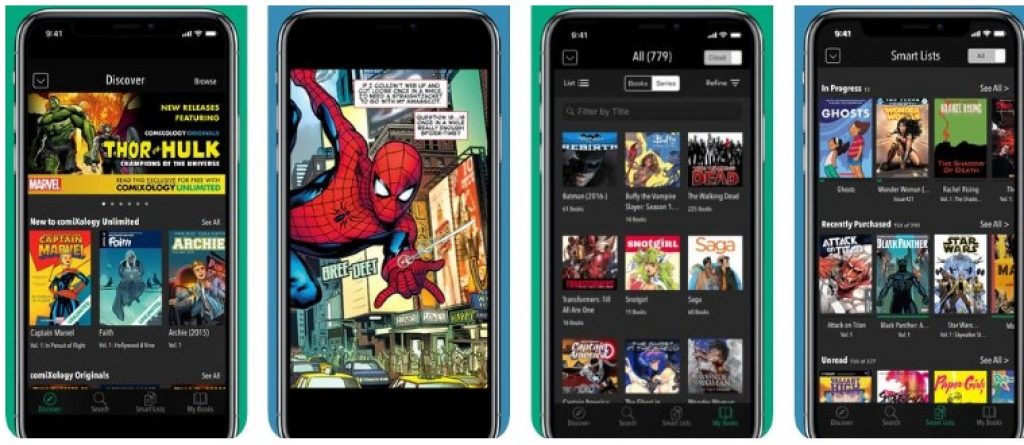 Forget the name that definitely sounds like a science discipline. This free manga reader offers variety. Its collaboration with marvel unlimited definitely should be incentive enough if you are a marvel fan.
12. Webcomics

This app capitalizes on the network of comic creators. From this network, a large library of Manga exists. It prides itself with its user-friendly interphase and community of manga enthusiasts. Perhaps what makes t different from other platforms is it serves as a stepping stone for up and coming comics.
13. Viz Manga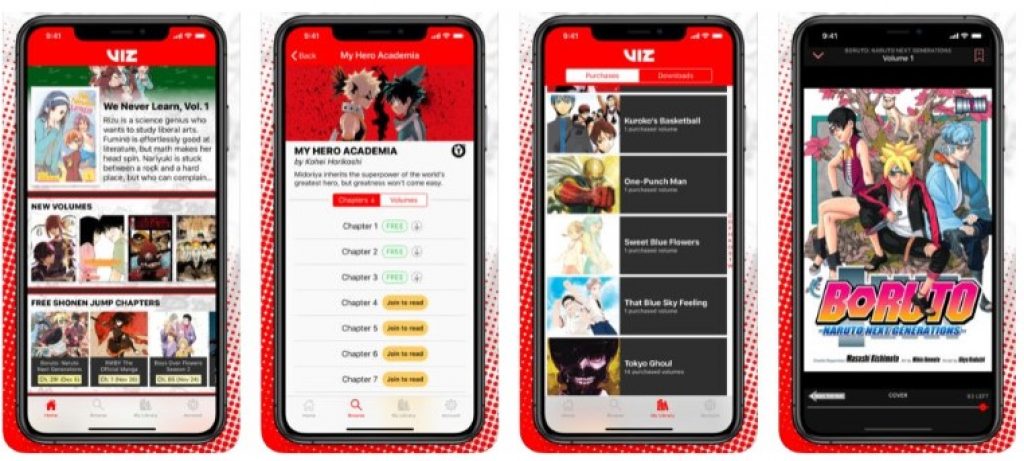 This publishing company turned app developer already has an existing comic reading app in Shonen Jump manga reader. Capitalizing in the cult following it has, Viz Manga reader owns an enviable catalog. This application comes free albeit with in-app purchases. Its foray into the apps business is exemplified by the room for improvement for the apps it develops. The upside is you can download manga in offline mode and read on your iPad.
14. Crunchyroll Manga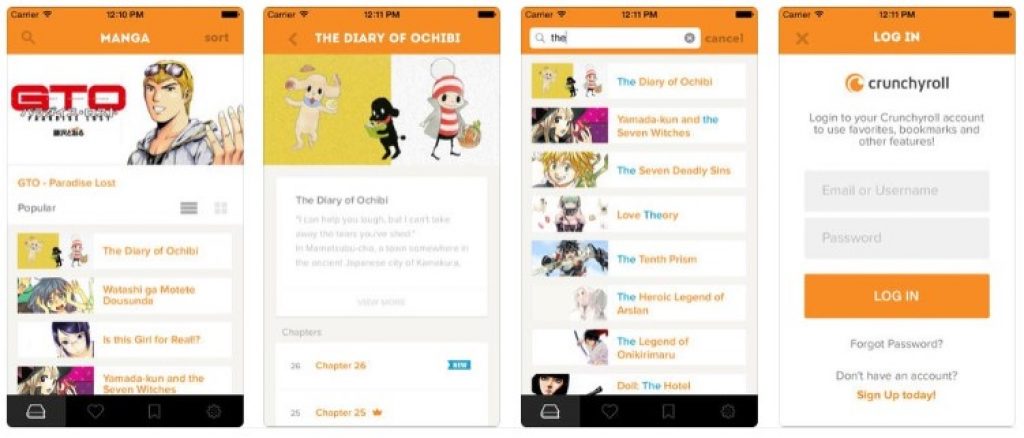 Developers of this application claim that users have the distinct advantage of having new releases instantly in their collection. One undeniable fact is the large collection of Manga that this app has to offer. The applications ability to filter content enables easy reading.
15. Manga Dogs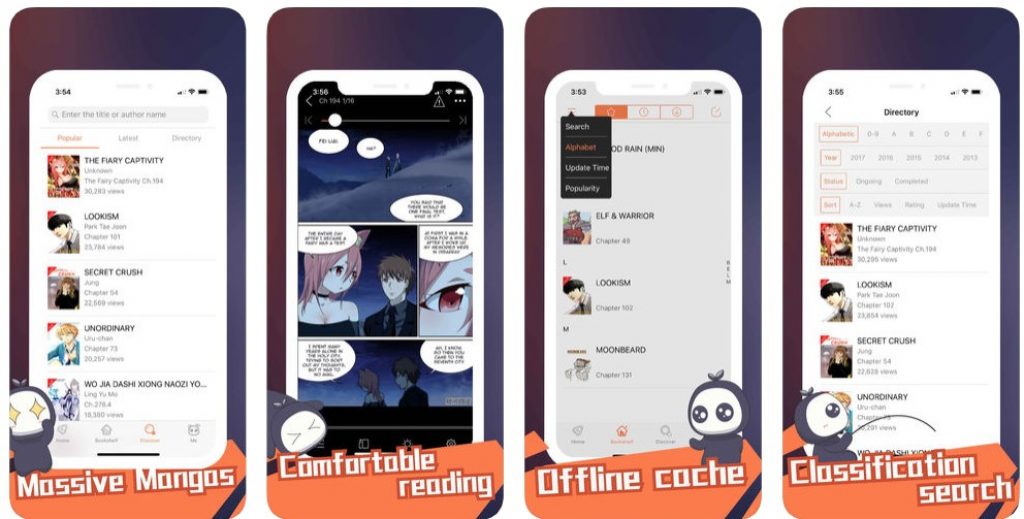 Manga dogs app is your perfect best friend. The 10 sources app which has six language options, allows for offline reading. Creating a virtual library is important given you may not necessarily like all the comics. Manga dogs enable you to create your own virtual library of favorites. The convenient interphase allows for customization of reading settings ranging from brightness, orientation and reading order. This application is available for both Android and iOS formats.
READ ALSO: Top 10 Weakest Pokemon of All Times
There is definitely a wide array of iPhone manga apps that you can choose for your iOS device from the list. So next time you want to read your favorite manga you already have a clue about what to expect or what to choose.